Findings – Enrolment and attendance: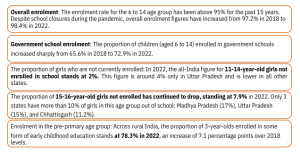 Findings- Learning levels: Foundational skills in reading and arithmetic
Nationally, children's

basic reading ability has dropped to pre-2012 levels

, reversing the slow improvement achieved in the intervening years. Drops are visible in both government and private schools in most states, and for both boys and girls.

Nationally,

children's basic arithmetic levels have declined

over 2018 levels for most grades.

Nationally, children's

ability to read simple English sentences has stayed more or less

at the 2016 level.
Findings – School observations
The proportion of government schools with

less than 60 students enrolled has increased

every year over

the last decade.

The states with the highest proportion of small schools in 2022 include

Himachal Pradesh (81.4%) and

Uttarakhand (74%).
Teacher and student attendance
At the All-India level, no major change is seen in students' and teachers' attendance. Average teacher attendance increased slightly, from 85.4% in 2018 to 87.1% in 2022. Average student attendance continues to hover at around 72% for the past several years.
School facilities
The fraction of schools with useable girls' toilets increased from 66.4% in 2018 to 68.4% in 2022. The proportion of schools with drinking water available increased from 74.8% to 76%,
Most sports-related indicators also remain close to the levels observed in 2018. In 2022, 68.9% of schools have a playground, up slightly from 66.5% in 2018.