EU-India Aviation Summit: The two days EU-India Aviation Summit began in New Delhi.
During the summit, a declaration of intent was signed by Airport Authority of India with Euro control, and a letter of intent memorandum of understanding was signed by DGCA with the European Union Aviation Safety for closer cooperation. The Union Minister of Civil Aviation addressed the summit virtually. The summit focused on the EU-India air transport relationship and the mutually shared challenges and opportunities of the two regions. The theme of the summit was COVID recovery of air traffic, increasing sustainability, maintaining safety and development of unmanned aircraft systems.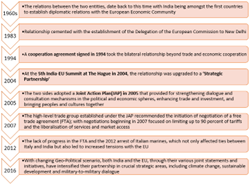 White Tiger:White tiger cubs Avani & Vyom released for public viewing at Delhi Zoo.
The white tiger or bleached tiger is a leucistic pigmentation variant of the Bengal tigers, Siberian Tiger and man-made hybrids between the twoThey are reported in the wild from time to time in the Indian states of Madhya Pradesh, Assam, West Bengal, Bihar and Odisha in the Sundarbans region and especially in the former State of Rewa.
Such a tiger has the black stripes typical of the Bengal tiger, but carries a white or near-white coat.The first white tiger was spotted in Madhya Pradesh's Vindhya region, in which the Satna district falls, in 1915.The rare breed of the big cat, which was caught for the first time, died in 1920.
Civil Service Day: The day is observed on April 21 every year, is a celebration of the idea of national civil service.The first National Civil Services Day was celebrated on April 21, 2006.The civil services in India consist of:Indian Administrative Service (IAS),Indian Police Service (IPS),Indian Foreign Service (IFS) and comprehensive list of other Central Services (Group A, B).It commemorates the day when Sardar Vallabhbhai Patel – independent India's first Home Minister, inaugurated the newly-created Indian Administrative Service in 1947, calling them the "steel frame of India. Theme 2023 is Viksit Bharat (विकसित भारत) aimed at 'Empowering Citizens and Reaching the Last Mile'.
Kamakhya temple: It is situated on Nilachal Hill and adjoining the southern bank of the Brahmaputra River in Guwahati.It is one of the most revered centres of Tantric practices.
It is regarded as one of the oldest of the 51 Shakti Peethas in India.
Temple Architecture: The traditional nagara  and Saracenic or Mughal style of architecture.This unusual combination has been named the Nilachala Style of Architecture.This is the only temple of Assam having a fully developed ground plan.It consists of five chambers, garbhagriha or sanctuary, antarala or vestibule, Jagan Mohan or principal chamber, bhogmandir or ritual chamber and natmandir or opera hall for performing traditional dance and music associated with sukti temples.It is interesting to note that the superstructure of each of the above chambers exhibits different architectural features.Ambubachi Mela is one of the major festivals of this temple. The festival is held every year to commemorate the yearly menstruation of Goddess Kamakhya.