1) Missing monuments: The Ministry of Culture recently told Parliamentary Standing Committee that 50 of India's 3,693 Centrally Protected Monuments (CPM) were missing
How can a monument go "missing": Government focus on the social issue rather than heritage: In the decade following the independence, the focus of successive governments was on health, education and infrastructure, rather than protecting heritage, Rapid urbanization, Submergence by reservoir/dams, Difficulties in tracing in remote locations: 24 are untraceable
2) National Green Hydrogen Mission: Ministry of New and Renewable Energy Aims To make India a Global Hub for the production, utilization and export of Green Hydrogen and its derivatives. components of the scheme:
The Strategic Interventions for Green Hydrogen Transition Programme (SIGHT): Under this, two distinct financial incentive mechanisms will be provided
Targeting domestic manufacturing of electrolysers and Production of Green Hydrogen
The Mission will also support pilot projects in emerging end-use sectors and production pathways.
Regions capable of supporting large-scale production and/or utilization of Hydrogen will be identified and developed as Green Hydrogen Hubs.
A public-private partnership framework for R&D (Strategic Hydrogen Innovation Partnership – SHIP) will be facilitated under the Mission.
A coordinated skill development programme will also be undertaken under the Mission.
3) Types of hydrogen: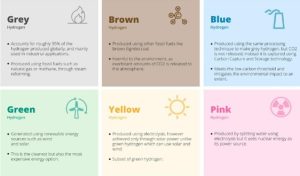 4) RBI Integrated Ombudsman Scheme:
It amalgamates three ombudsman schemes of RBI – the banking ombudsman scheme of 2006, the ombudsman scheme for NBFCs of 2018 and the ombudsman scheme of digital transactions of 2019.
The unified ombudsman scheme will provide redress of customer complaints involving deficiency in services rendered by RBI-regulated entities banks, NBFCs (Non-banking Financial Companies) and pre-paid instrument players if the grievance is not resolved to the satisfaction of the customers or not replied within a period of 30 days by the regulated entity.
5) Heat Dome: Recently, Several parts of Europe witnessed an unprecedented winter heat wave and experts said that temperatures increased 10 to 20 degrees Celsius above normal.
A heat dome occurs when an area of high-pressure traps warm air over a region, for an extended period. The longer that air remains trapped, the more the sun works to heat the air, producing warmer conditions with every passing day.
The heat dome's formation is related to the behaviour of the jet stream; an area of fast-moving air high in the atmosphere.
The jet stream is believed to have a wave-like pattern that keeps moving from north to south and then north again.
When these waves get bigger, they move slowly and sometimes can become stationary. This is when a heat dome forms.