1) Mela kheer Bhawani: The Annual Kheer Bhawani Mela which is held at Tulmulla Ganderbal district and falls on the auspicious day of (30 May) "Zeshta Ashtami" witnesses lakhs of Hindu pilgrims from across the country largely the Kashmiri Pandit Community, who congregate the famous Ragyna Devi Temple in Tulmulla popularly known as "Mata Kheer Bhawani", to seek blessings of their (Kul Devi) Goddess.
It is believed that the colour of the water in the spring around the Kheer Bhawani Temple changes its colour with the change in the circumstances of the Kashmir valley.
2) Zafar Mahal: located in Mehrauli village, in South Delhi, India, it is considered as the last monumental structure built as a summer palace during the fading years of the Mughal era.
The building has two components namely, the Mahal or the palace, which was built first by Akbar Shah II in the 18th century, and the entrance gate that was reconstructed in the 19th century by Bahadur Shah Zafar II.
Mughals would observe the Phool Walon ki Sair (procession of florists) in summer.
3) Mismatch repair deficient' cancer: it is most common among colorectal, gastrointestinal, and endometrial cancers.
Patients suffering from this condition lack the genes to correct typos in the DNA that occur naturally while cells make copies.
4) PD1: Programmed cell death protein 1 (PD1) is an inhibitory receptor that is expressed by all T cells during activation.
It regulates T cell effector functions during various physiological responses, including acute and chronic infection, cancer and autoimmunity, and in immune homeostasis.
An immunotherapy belonging to a category called PD1 blockades are now recommended for the treatment of cancers  like mismatch repair deficient, rather than chemotherapy or radiotherapy.
5) QS Rankings: Quacquarelli Symonds (QS)is a UK Based think-tank .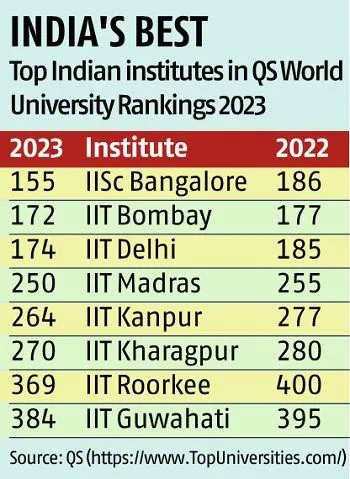 The QS World University Rankings is an annual publication of university rankings which comprises the global overall and subject rankings (which name the world's top universities for the study of 51 different subjects
It is the most-widely read university rankings in the world.
It currently leads the higher education industry with consistent innovation and growth, progressively affecting the way students and institutions engage.
India's tally in the QS rankings has risen to 35 this year from 29 in 2021.