The Government of India (GoI) has questioned the parameters of the recently released Environmental Performance Index (EPI) 2022.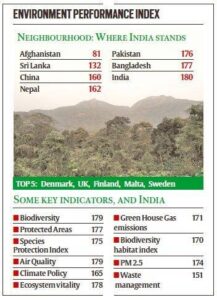 Key findings:
EPI 2022 uses 40 performance indicators across 11 issue categories to assess and rank 180 countries
India has fallen from rank 168 and a score of 27.6 in 2020.
Issues raised by India:
Some of these indicators used for assessing performance are extrapolated and based on surmises and unscientific methods.
Baseline data does not seem to have been used.
Also, there has been no explanation for the weightages assigned to certain indicators.
The shifting of weightage on many indicators has resulted in India's low ranking. For example, for black carbon growth, India's score actually improved from 32 in 2020 to 100 (the top score) in 2022, but the weightage of this indicator has been reduced to 0.0038 in 2022 from 0.018 in 2020.
Crucial carbon sinks that mitigate GHG, such as forests and wetlands, have not been taken into account.
Objection to the low weightage given to per-capita GHG emissions (2.6%). India's low emissions trajectory, unlike high historical trajectories of developed countries, has been ignored.
No indicator talks about renewable energy, energy efficiency and process optimization.
The index emphasises the extent of protected areas rather than the quality of protection that they afford; the computation of biodiversity indices does not factor in management effectiveness evaluation of protected areas the index computes the extent of ecosystems but not their condition or productivity
Implications of EPI approach:
This approach is guaranteed to make richer countries look good, because they have accumulated emissions in the past, but these have started declining in the last decade.
Meanwhile, poorer countries that have emitted comparatively little in the past, look bad.
The EPI's flawed and biased approach distracts from a much-needed honest conversation about the environment in India.
Conclusion:
While indices like these have a limited attention-grabbing purpose, they serve this purpose well only when they are focused, limited to easy-to-measure metrics, and consciously minimise value judgements. The EPI 2022 resoundingly fails this test.
READ MORE: Daily Prelims Booster
READ MORE: Daily News Analysis