Days before the first anniversary of the beginning of the war in Ukraine, President Vladimir Putin announced in an address to his nation that Russia is suspending its participation in the New START, the last remaining major military agreement with the United States.
In 1985, the two countries entered into arms control negotiations on three tracks.
The first dealt with strategic weapons with ranges of over 5,500 km, leading to the

START agreement in 1991.

It limited both sides to 1,600 strategic delivery vehicles and 6,000 warheads.

A second track dealt with intermediate-range missiles and this led to the

INF Treaty in 1987.
A third track, Nuclear, and Space Talks was intended to address Soviet concerns regarding the U.S.'s Strategic Defence Initiative (SDI) but this did not yield any outcome.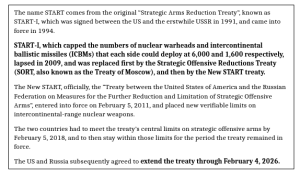 Structure:
It restricts both countries to a maximum of

1,550 deployed strategic nuclear warheads

each

and limits

launchers and heavy bombers to 800.
It also outlines

mutual inspections

and regular data exchanges on warheads and delivery mechanisms.

It includes an agreement to notify each other about the status of some ballistic missiles.
Compliance:
The treaty provides for

18 on-site inspections per year

for US and Russian inspection teams.

Type One inspections

focus on sites with deployed and non-deployed strategic systems (up to 10 per year), and

Type Two inspections

focus on sites with only non-deployed strategic systems (up to 8 per year).

Since the New START Treaty's entry into force, as of February 1, 2023, the two parties have conducted 328 on-site inspections,
Status of compliance:
US said that Russia was not complying with the New START, only remaining nuclear arms control treaty between the two countries, jeopardizing a source of stability in their relationship.

Russia's refusal to facilitate inspection activities

prevents the United States from exercising important rights under the treaty.

Russia has also failed to comply with the New START treaty obligation

to convene a session of the bilateral consultative commission in accordance with the treaty-mandated timeline.
Various Treaties signed Between USA & Russia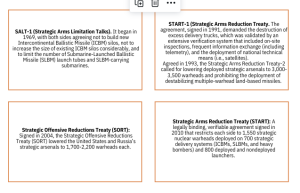 The INF Treaty was hailed as a great disarmament pact even though no nuclear warheads were dismantled.
As it is a bilateral agreement, it did not restrict other countries.
By 1991, the INF was implemented. USSR destroyed 1,846 and the US destroyed 846 Pershing and cruise missiles.

Associated production facilities were also closed down.

INF Treaty was the first pact to include intensive verification measures, including on-site inspections.