Recently, the government has launched the pilot phase of Open Network for Digital Commerce (ONDC) with an aim to "democratise" the country's fast growing digital e-commerce space that is currently dominated by the two U.S.-headquartered firms — Amazon and Walmart.
ONDC is a freely accessible government-backed platform that aims to democratise e-commerce by moving it from a platform-centric model to an open network for buying and selling of goods and services.
Under ONDC, it is envisaged that a buyer registered on one participating e-commerce site (for example, Amazon) may purchase goods from a seller on another participating e-commerce site (for example, Flipkart).
Presently, buyers and sellers have to be on the same app for a transaction which happens through the same platform. For example, a buyer needs to go to Amazon, to buy a product from a seller on Amazon.
It is a not-for-profit organisation that will offer a network to enable local digital commerce stores across industries to be discovered and engaged by any network-enabled applications.
What is the Significance?
On ONDC, buyers and sellers may transact irrespective of the fact that they are attached to one specific e-commerce portal. This could give a huge booster shot to smaller online retailers and new entrants.
ONDC is expected to digitise the entire value chain, standardise operations, promote inclusion of suppliers, derive efficiency in logistics and enhance value for consumers.
The platform envisages equal-opportunity participation and is expected to make e-commerce more inclusive and accessible for consumers as they can potentially discover any seller, product or service by using any compatible application/platform, thus increasing their freedom of choice.
It will enable transactions of any denomination, thus making ONDC a truly 'open network for democratic commerce'.
Over the next five years, the ONDC expects to bring on board 90 crore users and 12 lakh sellers on the network, enabling 730 crore additional purchases.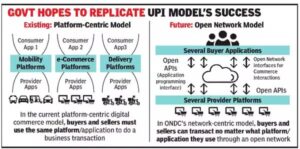 READ MORE: Daily Prelims Booster
READ MORE: Daily News Analysis