Ukraine's President Volodymyr Zelensky recently said he had declared February 16, which U.S. officials had said could be the date of a Russian attack, as a day of "national unity".
However, Russia has clarified that it has no plans to invade Ukraine.
What is the Current Status of the War?
The West has recently announced the

supply of more advanced weapons to Ukraine,

deepening its involvement in the conflict.

In response, Russian President Vladimir Putin has already

reinforced Russian positions

along the 1,000-km long frontline in Ukraine.

Risks of a direct confrontation between Russia and the North Atlantic Treaty Organisation (NATO), both nuclear powers, are also on the rise as the war is extended.

Russia wanted to install a Moscow friendly regime and to take the whole of Ukraine's east and south, stretching from Kharkiv in the northeast through the

Donbas in the east (which comprises Luhansk and Donetsk) to Odesa, the Black Sea port city in the southwest

,

turning the country into a land-locked rump. Russia has failed to meet any of these objectives.

Nevertheless, Russia has taken substantial portions of Ukrainian territories, including Mariupol.

Russia's territorial gains in Ukraine peaked in March 2022,

when it controlled some 22% of pre-2014 Ukraine.

Ukraine recaptured some land in Kharkiv and Kherson

. But still, Russia controls some 17% of Ukraine.
Focused fighting has been going on in some flashpoints along the frontline including Bakhmut, Donetsk and Zaporizhzhia.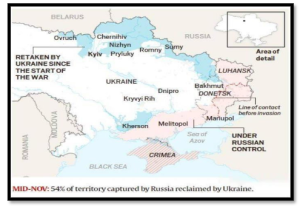 Evaluation of Western Response:
Sanctions on Russia

, one of the top global producers of oil and gas, hit the global economy hard, worsening an inflationary crisis across the West, particularly in Europe.

Providing military help to Ukraine.

Russia also took a hit, but it found

alternative markets for its energy exports

in Asia, redrawing the global energy export landscape. In 2022, despite sanctions, Russia raised its oil output by 2% and boosted oil export earnings by 20%.
Geopolitical changes:
Increased focus on Security and Defence

: The war has re-energized the Europe-US security alliance. NATO has opened its door to the proposed inclusion of Sweden and Finland, that will, once in (Turkey's approval is awaited), form the new military frontiers of the alliance against Russia.

Trust Deficit

: The trust deficit between Russia and the West is at an-

all time

high. The US-led alliance is pouring weapons into Ukraine.

China Factor

: Moscow formalized its friendship with China in 2022 as "limitless". But China also does not want to jeopardize its Europe ties. China, however, has not contributed with weapons to Russia and also expressed its reservation against nuclear war.
Way Forward
There is an urgent need for the parties of the war to return to negotiation table as the escalation of hostilities and violence is in no one's interest.
International principles and jurisprudence make it clear that parties to a conflict should ensure civilians and civilian infrastructure are not targeted, and the global order is based on international law, the UN Charter and respect for territorial integrity and sovereignty of all states. These principles must be upheld without any exception.