The Supreme Court has said its technical committee had so far received and tested 29 mobile devices suspected to be infected by Pegasus malware.
Pegasus:
Pegasus is a spyware developed by NSO Group, an Israeli surveillance firm that helps spies hack into phones.
It was alleged that the government used the Israel-based spyware to snoop on journalists, parliamentarians, prominent citizens and even court staff.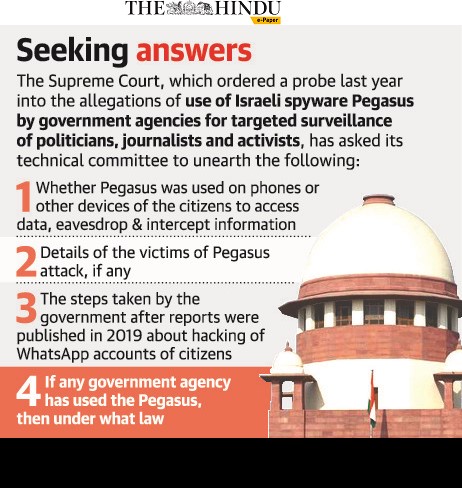 Issues:
The very existence of a surveillance system, whether under a provision of law or without it, impacts the right to privacy under Article 21 and the exercise of free speech under Article 19.
Curbing Dissent: It reflects a disturbing trend with regard to the use of hacking software against dissidents and adversaries
In the absence of privacy, the safety of journalists, especially those whose work criticizes the government, and the personal safety of their sources is jeopardised.
State-sponsored mass surveillance: The spyware coupled with AI can manipulate digital content in users' smartphones. This in turn can polarize their opinion by the distant controllers.
Issues over government involvement:
In the absence of parliamentary or judicial oversight, electronic surveillance gives the executive the power to influence both the subject of surveillance and all classes of individuals, resulting in a chilling effect on free speech.
For Pegasus-like spyware to be used lawfully, the government would have to invoke both the IT Act and the Telegraph Act. Communication surveillance in India takes place primarily under two laws:
Telegraph Act, 1885: It deals with interception of calls.
Information Technology Act, 2000: It was enacted to deal with surveillance of all electronic communication, following the Supreme Court's intervention in 1996.
Way forward:
Constituting an independent high-level inquiry with credible members and experts that can restore confidence and conduct its proceedings transparently.
The need for judicial oversight over surveillance systems in general, and judicial investigation into the Pegasus hacking, in particular, is very essential.
READ MORE: Daily Prelims Booster
READ MORE: Daily News Analysis