(GS2: Bilateral relations)
India-Nepal ties:
Trade and Economy: India is Nepal's largest trade partner and the largest source of foreign investments, besides providing transit for almost the entire third country trade of Nepal.
Connectivity: MOUs have been signed between both governments for laying an electric rail track linking Kathmandu with Raxaul in India.
Defence: TheGorkha Regiments of the Indian Armyare raised partly by recruitment from hill districts of Nepal. India from 2011, every year undertakes a joint military exercise with Nepal known as Surya Kiran.
Cultural: India has signed three sister-city agreementsfor the twinning of Kathmandu-Varanasi, Lumbini-Bodhgaya and Janakpur-Ayodhya.
The two countries have close bonds through marriages and familial ties, popularly known as Roti-Beti ka Rishta.
India and Nepal share multiple multilateral forums such as BBIN (Bangladesh, Bhutan, India, and Nepal), BIMSTEC(Bay of Bengal Initiative for Multi Sectoral Technical and Economic Cooperation), Non Aligned Movement, and SAARC(South Asian Association for Regional Cooperation) etc.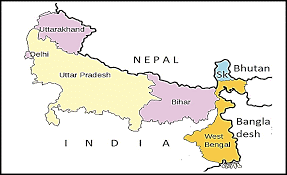 India-Nepal Projects:
Mahakali Treaty (6,480 MW)
Upper Karnali Project (900 MW)
Arun Three projects (900 MW)
Seti River (SR6) project
What is the Treaty of Peace and Friendship of 1950?
The treaty talks about the reciprocal treatment of Indian and Nepali citizens in the two countries, in residence, property, business and movement.
It also establishes national treatment for both Indian and Nepalese businesses (i.e., once imported, foreign goods would be treated no differently than domestic goods).
It also gives Nepal access to weaponry from India.
Issues:
Issues with Peace and Friendship Treaty: The idea of revising and updating it has found mention in Joint Statements since the mid-1990s but in a sporadic and desultory manner.
The Demonetisation Irritant: The Nepal Rashtra Bank (central bank), held ₹7 crore and estimates of public holdings are ₹500 crore, which was not accepted by India.
Territorial Disputes: Another irritant in the Indo-Nepal ties is the Kalapani boundary issue. These boundaries had been fixed in 1816 by the British, and India inherited the areas over which the British had exercised territorial control in 1947.
China's Intervention: China considers Nepal a key partner in its Belt and Road Initiative (BRI), and wants to invest in Nepal's infrastructure as part of its grand plans to boost global trade.
Internal Security: It is a major concern for India as the Indo-Nepal border is virtually open and lightly policed which is exploited by terrorist outfits and insurgent groups from North Eastern part of India eg. supply of trained cadres, fake Indian currency.
Madhesi people: perceived interference of India to support Madhesi blockade created anti India feelings among hill tribes.
Way forward:
Diverse but balanced and constructive approaches to India-Nepal relations will contribute to a clearer understanding of the past, better awareness of present trends, and new roadmaps for substantive upgrading of ties in the years to come.
It is the time for fresh thinking on a host of issues, including:
economic recovery; bilateral, sub-regional and regional cooperation; restructuring supply chains; human as well as conventional security; energy cooperation; development, people-to-people contacts etc