The India-Australia relationship: Strategic and trade ties; the China factor
Why in News?
Australian Prime Minister is visiting India for India-Australia Summit in March 2023, seeking to strengthen the new momentum in ties between the two countries through deeper trade, investment and defence relations.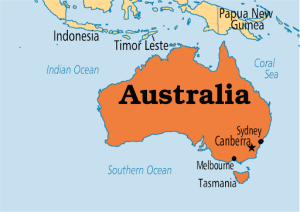 Historical Perspective
Australia and India for the first time established diplomatic relations in the pre-Independence period, when the Consulate General of India was first opened as a Trade Office in Sydney in 1941.
India-Australia relations touched a historic low when the Australian Government condemned India's 1998 nuclear tests.
In 2014, Australia signed a Uranium supply deal with India, the first of its kind with a country that is a non-signatory to the Nuclear Non-Proliferation Treaty, in recognition of India's "impeccable" non-proliferation record.
At the India-Australia Leaders' Virtual Summit in June 2020, the Indian Prime Minister and Australian Prime Minister elevated the bilateral relationship from the Strategic Partnership concluded in 2009 to a Comprehensive Strategic Partnership (CSP).
At the 2nd India-Australia Virtual Summit in March 2022, several key announcements were made, including a Letter of Intent on Migration and Mobility Partnership Arrangement to foster the exchange of skills, and a Letter of Arrangement for Educational Qualifications Recognition to facilitate the mobility of students and professionals.
Common Trait in Relationship: Shared values of pluralistic, Westminster-style democracies, Commonwealth traditions, a free press, an independent judicial system, and the English language serve as the foundation for closer cooperation.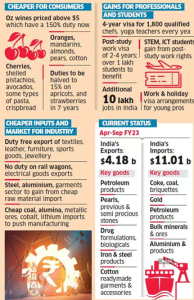 India-Australia Cooperation
Economic cooperation: The Economic Cooperation Trade Agreement (ECTA) entered into force in December 2022, and has resulted in an immediate reduction of duty to zero on 96% of Indian exports to Australia in value (that is 98% of the tariff lines) and zero duty on 85% of Australia's exports (in value) to India.

Bilateral trade was US$ 27.5 billion in 2021; with ECTA, there is potential for it to reach around US$ 50 billion in five years.
India is Australia's sixth-largest trading partner.

People-to-people ties: India is one of the top sources of skilled immigrants to Australia.

As per the 2021 Census, around 9.76 lakh people in Australia reported their ancestry as Indian origin, making them the second largest group of overseas-born residents in Australia.

Education: The Mechanism for Mutual Recognition of Educational Qualifications (MREQ) was signed on March 2 this year. This will facilitate the mobility of students between India and Australia.

More than 1 lakh Indian students are pursuing higher education degrees in Australian universities, making Indian students the second largest cohort of foreign students in Australia.

Australia-India Education Qualification Recognition Mechanism: It means that degrees obtained in Australia will now be recognised in India, and, vice-versa.

Deakin University, one of Australia's top educational institutions, will be the first foreign university to set up an international branch campus at GIFT (Gujarat International Finance Tec) City in Gandhinagar.

Defence cooperation: The 2+2 Ministerial Dialogue was held in September 2021.

Mutual Logistics Support Agreement (MLSA) was concluded during the Virtual Summit in June 2020, and the two militaries held several joint exercises in 2022.
Australia will host military operations with India, Japan, and the US in the "Malabar" exercises off the coast of Perth in August, and has invited India to join the Talisman Sabre exercises later this year.
Security and defence cooperation between New Delhi and Canberra is increasingly aimed at upholding freedom of navigation and creating a "strategic equilibrium" in the Indo-Pacific maritime space.

Clean energy: The countries signed a Letter of Intent on New and Renewable Energy in February 2022 which provides for cooperation towards bringing down the cost of renewable energy technologies, especially ultra-low-cost solar and clean hydrogen.

In March 2022, India announced matching funds of AUD 10 million for Pacific Island Countries under Infrastructure for Resilient Island States (IRIS) and of AUD 10 million for Pacific Island Countries under International Solar Alliance (ISA).

China factor: Both Australia and India support a rules-based international order and are partners in seeking to forge regional institutions in the Indo-Pacific which are inclusive, and promote further economic integration. Both have been assessing the Chinese challenge since 2013.

Australia in 2018 banned Chinese telecom firm Huawei from the 5G network.
It called for an inquiry into the origins of Covid-19 and slammed China's human rights record in Xinjiang and Hong Kong.
India has been facing an aggressive Chinese military along the border.
Way Forward
India-Australia relations have strengthened in recent years due to shared values, interests, geography, and objectives.
Both countries envision a free, open, inclusive, and rules-based Indo-Pacific region, unilateral or coercive actions are not preferred and are to be avoided in resolving any disagreements or conflicts.
Renewed relationship between India- Australia through initiatives such as India-Australia bilateral Summits gives an opportunity to further strengthen the ties between the two countries to play an active role in ensuring rule-based order in the Indo-Pacific.