(GS3: Infrastructure: Energy, Ports, Roads, Airports, Railways Etc.)
The project:
The Ken-Betwa Link Project is the first project under the National Perspective Plan for the interlinking of rivers.
Under this project, water from the Ken River will be transferred to the Betwa river.
Both these rivers are tributaries of the river Yamuna.
Under Phase-I, one of the components — Daudhan dam complex and its appurtenances like Low Level Tunnel, High Level Tunnel, Ken-Betwa link canal and Power houses — will be completed.
While in the Phase-II, three components — Lower Orr dam, Bina complex project and Kotha barrage — will be constructed.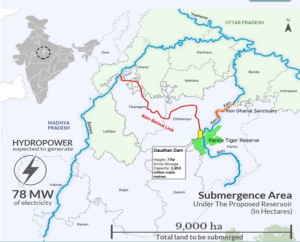 Importance:
Irrigation: The project is slated to irrigate 10.62 lakh hectares annually, provide drinking water supply to 62 lakh people and generate 103 MW of hydropower and 27 MW of solar power.
Water supply: The project will be of immense benefit to the water-starved Bundelkhand region, spread across Madhya Pradesh and Uttar Pradesh.
Agricultural boost: The project is expected to boost socio-economic prosperity in the backward Bundelkhand region on account of increased agricultural activities and employment generation.
Addressing Rural Distress: It would also help in arresting distress migration from this region.
Issues with the projects
Migration: It will lead to massive displacement of people
Topography change: Since the Ganga basin topography is flat, building dams would not substantially add to river flows.
Inundation: The transfer of such enormous amounts of water will inundate forests and land for reservoirs.
Seismic hazards: The weight of billions of litres of water can have seismic implications in the Himalayan region.
Financial expense: River inter-linking is an expensive business from building the link canals to the monitoring and maintenance of infrastructure.
Political will: Implementation of the project not only needs a huge financial capital but also political support both is scarce commodities as of now.
Ecological issues with the project
The government's plan is based on a 'surplus and deficit' model that have little basis in science.
There may not even be enough water in the Ken, a non-perennial river, to meet the projected needs of the Betwa – forget the needs of the Bundelkhand region.
The project plans to create a high reservoir-dam on the Ken River in the Panna National Park and Tiger Reserve for the KBLP.
Downstream of the national park lies the Ken Gharial Sanctuary, created to protect the critically endangered Gangetic gharial (Gavialis gangeticus).
Way forward
Due diligence: Expert scrutiny during the project-approval stage are cornerstones of sound environmental governance.
Independent hydrological study: of these rivers is necessary.