The preliminary findings from the government-constituted probe committee on electric vehicle (EV) fires have found issues with battery cells/design in nearly all of the electric two-wheeler (2W) fire incidents in the country, which could put EV two-wheeler manufacturers in a tough spot.
Lithium-ion batteries:
Every Li-ion battery consists of three active components:
Anode: typically, graphite
Cathode: based on a nickel, cobalt, and manganese-based oxide; and
Electrolyte: A salt of lithium in an inorganic solvent
Lithium-ion batteries use aqueous electrolyte solutions, where ions transfer to and fro between the anode (negative electrode) and cathode (positive electrode), triggering the recharge and discharge of electrons.
Tech involved:
Battery manufacturing is a complex operation involving forming sheets of the anode and cathode and assembling them into a sandwich structure held apart by a thin separator.
Separators, about 15 microns in thickness — about a fifth of the thickness of the human hair — perform the critical function of preventing the anode and cathode from shorting.
Safety features, such as thermal switches that turn off if the battery overheats, are added as the sandwich is packaged into a battery cell.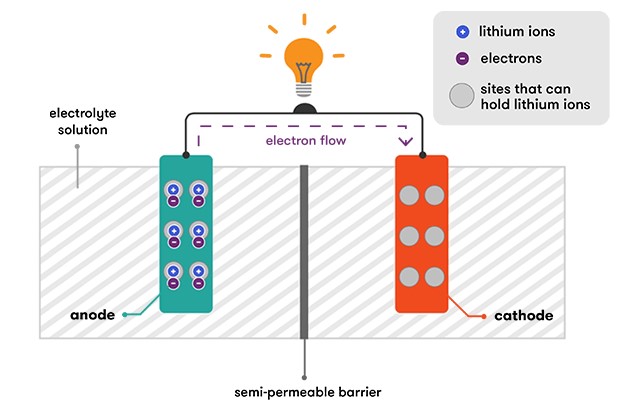 Reasons:
Most modern batteries automatically switch off around 45-55°C. And even if these thermal-based safety precautions don't kick in, you won't see a thermal runaway (fire) because batteries cannot heat themselves up by a few hundred degrees celsius under normal operations. 99% of battery fires are due to short circuits leading to uncontrolled current. This is the only scenario in which cells heat themselves up beyond 100°C.
The reason why short circuits happen has also been attributed to poor cell quality, bad battery design, and poor battery management system, where cells aren't properly managed with the right software intelligence.
Manufacturers are not spending enough time designing products, and testing standards prescribed by government bodies may be inadequate to test all real-life situations accurately.
Ways to minimise risks:
Import norms should be made stricter to ensure that only high-quality parts are brought into the country.
Avoid charging the EV battery immediately after the EV stops running since the li-ion cells contained in the battery remain hot for some time. Let the battery cool down and then put it on charge.
Inspect the battery periodically for damage before use and in case of any defect
Battery assemblers in the country should follow high standards – like those set for the automotive industry. A lot of relevant audits and certifications are needed.
Alternatives:
Typically, in Li-ion batteries the liquid electrolytes are organic solvents, which are highly flammable.
The dendrites connect the anode and cathode through the separator, providing a low-resistance path for electron transport, resulting in high self-discharge currents to ignite the flammable electrolyte and leading to explosions. Therefore, dendrite growth is one of the most highlighted issues since it affects the safety of a battery.
In contrast, batteries with solid electrolytes do not have the danger of dendrite growth. So, solid-state batteries are less prone to catching fire.
Scientists say solid-state batteries can have an energy density. The absence of a liquid electrolyte in all-solid-state lithium batteries simplifies the packaging and reduces dead weight in the battery, resulting in improved energy density.
Government think tank Niti Aayog came out with a draft battery swapping policy for electric vehicles and suggested incentives as well as a rigorous testing protocol for swappable batteries.
READ MORE: Daily Prelims Booster
READ MORE: Daily News Analysis