About SAARC: It is an intergovernmental organization and geopolitical union of 8 South Asian countries founded on December 8, 1985, in Dhaka, Bangladesh.
SAARC also includes 9 formally recognized observers including the European Union, the US, Iran and China.
Secretariat: The SAARC Secretariat is located in Kathmandu (Nepal) to promote economic growth in South Asia.
Objective: The prime focus of SAARC is to work collectively to promote the welfare of people in the region and to improve their standard of living through social progress and economic development.
Summits: The SAARC summits are usually held biennially and hosted by member states in alphabetical order. It has organised 18 summits since 1985 and the first SAARC Summit was held in Dhaka (Bangladesh).
About BIMSTEC:
It is an intergovernmental organisation established in 1997, comprising 5 South Asian nations and 2 ASEAN countries, housing 1.73 billion people and having a combined GDP of USD 4.4 trillion (2022).
BIMSTEC not only connects South and Southeast Asia, but also the ecologies of the Great Himalayas and the Bay of Bengal
This sub-regional organization came into being in 1997 through the Bangkok Declaration.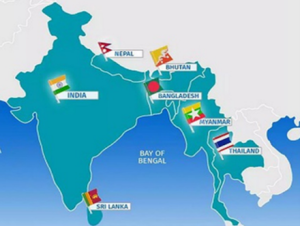 Significance of SAARC for India
Pan-South Asia outreach: SAARC is the only intergovernmental organisation with a pan-South Asia reach. Thus, India can judiciously employ it to serve its interests in the entire region.
Serve India's national interest: Since South Asia is India's immediate neighbourhood, it is important for India's national interests as identified in the current regime's 'Neighbourhood First'
Boost India's soft power image: SAARC is critical in buttressing India's soft power in the region.
Issues with SAARC:
Lack of political will: The lack of political will of India and Pakistan hinders progress and development of the regional grouping.
Indo-Pak rivalry: SAARC's functioning and activities have virtually stalled because of the strained relations between India and Pakistan. For instance, since 2014, no SAARC summit has taken place leaving the organisation practically expired.
The 2016 SAARC summit that was to be hosted by Pakistan was also stalled after India pulled out of the summit in the aftermath of the Uri terror.
Terrorism: SAARC Region is also one of the most terror prone regions of the world with frequent tensions and unrest within the member countries as well as amongst the members.
Lack of economic integration: South Asian Free Trade Area (SAFTA) launched in 2006 has not been able to achieve success due to continued tension and cold Indo-Pak relations.
With the gross GDP of SAARC nations being approx. US $3 trillion, it is one of the most emerging development regions in the world.
Recent developments in Afghanistan and Pakistan: For example, the evolving socio – economic situation in Afghanistan with the establishment of Taliban regime.
Pakistan's recurring economic crisis, continuation in FATF grey list etc.
China's diplomacy: China which earlier wanted to be a member of SAARC was prevented by India in becoming a member. Therefore, China never wants SAARC to be a strong organization. And is trying to establish relations with the member states of SAARC excluding India.
Opportunities offered by the BIMSTEC
Link between South Asia and Southeast Asia: BIMSTEC can help India to accord primacy to her immediate neighborhood and connect it with Southeast Asia.
For instance, India in recent years have been moving its diplomatic energy away from SAARC to BIMSTEC which resulted in BIMSTEC, finally adopting its Charter earlier this year.
BIMSTEC also aligns with India's 'Act East' policy for greater regional cooperation in Southeast Asia and provide a platform for intra-regional cooperation between SAARC and ASEAN members.
Non-disruptive functioning: Pakistan not being a BIMSTEC member could help India bolster its regional ambitions in the grouping without any impediment as Pakistan routinely vetoes several regional integration initiatives in the SAARC.
More accommodative grouping: Unlike the SAARC Charter, the BIMSTEC Charter talks about the 'Admission of new members' to the group, hence paving the way for the admission of countries such as the Maldives.
Challenges within BIMSTEC
No flexibility for bilateral negotiations: Despite the failure of SAARC, the BIMSTEC Charter does not contain the flexible participation scheme of the kind present in the ASEAN Charter.
The flexible scheme in the ASEAN Charter, also known as the 'ASEAN Minus X' formula, allows two or more ASEAN members to initiate negotiations for economic commitments.
Thus, no country enjoys veto power to thwart economic integration between willing countries.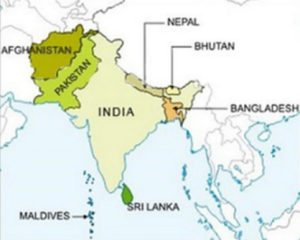 Way forward
Updating BIMSTEC charter: A flexible 'BIMSTEC Minus X' formula should be pressed by India so that BIMSTEC members can conduct their bilateral agreements under the broader BIMSTEC umbrella.
For example, India and Bangladesh or India and Thailand conducting their ongoing bilateral Free Trade Agreement (FTA) negotiations under the broader BIMSTEC umbrella.
New regional economic order: Based on ASEAN's spectacular success in regional integration, the concept of a new regional economic order could be explored by South Asian economies as well to usher prosperity and peace in the region.