India has formally assumed the presidency of G-20 on December 1, 2022.India will hold the presidency till 30th November 2023.
India's theme as stated by the Prime Minister is — "One Earth, One Family, One Future".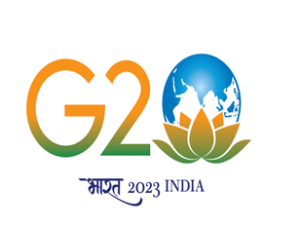 How does the G20 forum work?
G20 Tracks: The processes under G20 are divided into two parallel tracks —
Finance Track: The finance track is led by Finance Ministers and central bank governors of member nations, who meet throughout the year.
Sherpas: Sherpas, who are personal emissaries of leaders, lead the sherpa track.
They oversee negotiations all through the year, discussing agenda items for the summit and coordinating the substantive work of the G20.
G20 Working Groups: Working groups designed around specific themes operate within both tracks.
These include representatives from relevant ministries of member nations and invited/guest countries too.
Various international organisations such as the United Nations, International Monetary Fund, and the Organisation for Economic Co-operation and Development also participate in working groups.
India's G20 agenda – Inclusive, ambitious, action-oriented and decisive:
Inclusive: India's G20 Presidency will work to promote the universal sense of one-ness.
Hence, "One Earth, One Family, One Future" is the theme.
Ambitious: The previous 17 Presidencies delivered towards ensuring macro-economic stability, rationalising international taxation, relieving debt burden on countries, etc. India will further work on the achievements of these.
Action-oriented: India's G20 priorities will be shaped in consultation with not just G20 partners, but with the Global South, whose voice often goes unheard.
Decisive: India will encourage sustainable and environment-friendly lifestyles, based on India's tradition of trusteeship towards nature.
Comparative advantage to India:
Housing one-sixth of humanity and with its immense diversity of languages, religions, customs and beliefs, India is a mirror of the world.
With the oldest-known traditions of collective decision-making, India contributes to the foundational DNA of democracy.
Today, India is the fastest-growing economy, having a citizen-centric governance model – national development is a citizen-led "people's movement".
None of the previous summits had the world's largest economies assembled in one place nor did they have the entire P-5 (permanent members of the UN Security Council) represented. In that sense, the G-20 summit would be the first of its kind in Indian history.
India's Presidency of the G20, SCO and UNSC is a historic opportunity
The logo reflects our idea of Vasudhaiva Kutumbakam (the whole earth is a family), because of which India has always believed in global harmony.
The lotus flower symbolises our Puranic heritage, our aastha (belief) and boddhikta (intellectualism). 7 petals represent the 7 continents.
The theme also spotlights LiFE (Lifestyle for Environment), with its associated, environmentally sustainable and responsible choices, both at the level of individual lifestyles as well as national development, leading to globally transformative actions resulting in a cleaner, greener and bluer future.
• Diversity: The G20 presidency is an opportunity to present the diversity that is India to the outside world. 
• Employment and environment: G20 can act as a forum to exchange experiences on societal benefits and growth as complementary goals would lead to fresh thinking on employment and environment.
• Independent foreign policy: India's independent foreign policy, so visibly demonstrated in the ongoing NATO-Russia (Ukraine) war, has made the world sit up and take notice.
• Management during pandemic: Among large democracies, India has by far been the best performer in handling the Covid-19 pandemic. For the world, the Indian public goods delivery mechanism, at a billion-plus scale, has set a new template