1) World Elephant Day: it is celebrated on 12 August every year to raise awareness about the plight of elephants all over the world.
There has been a 50 percent decline in the population of Asian elephants in the last 75 years

There are three subspecies of Asian elephant which are the Indian, Sumatran and Sri Lankan.

The Indian subspecies has the widest range and accounts for the majority of the remaining elephants on the continent.

IUCN Red List: Endangered, Wildlife (Protection) Act, 1972: Schedule I, CITES: Appendix I
2) Butterfly Mine: Russia is likely to have deployed anti-personnel mines to deter freedom of movement along its defensive lines in the Donbas
The PFM-1 and PFM-1S are two kinds of anti-personnel landmines that are commonly referred to as 'Butterfly mines' or 'Green Parrots'.

These names are derived from the shape and colour of the mines.

The main difference between the PFM-1 and PFM-1S mine is that the latter comes with a self destruction mechanism which gets activated within one to 40 hours.

Because of the relatively lesser explosive packed in this small mine, it often injures and maims the handler rather than killing them.
3) UNCTAD report on crypto: The United Nations Conference on Trade and Development (UNCTAD) released a policy brief on crypto.
3% of India Population Owned Cryptocurrencies In 2021
The report noted that the cryptocurrency ecosystem expanded globally by 2300% between September 2019 and June 2021 especially in developing countries
One of the prime reasons for the increased uptake of cryptocurrencies was because users considering them a cheap and swift alternative to send remittances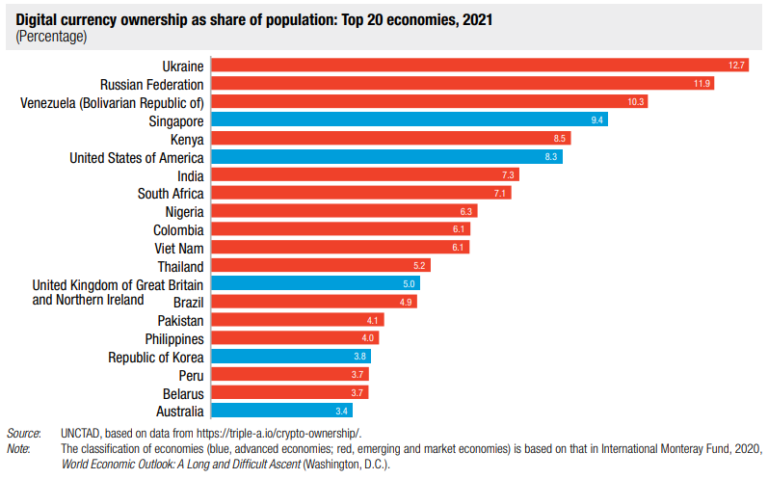 4) Vitamin D: Vitamin D is a fat-soluble vitamin which is naturally present in very few foods like fatty fish, and fish liver oils, beef liver, cheese, and egg yolks.
It is also produced endogenously when ultraviolet rays from sunlight strike the skin and trigger vitamin D synthesis.

Vitamin D maintains adequate calcium and phosphate concentrations in blood. It prevents weakening of bones.

Deficiency leads to: Rickets in children and osteomalacia (softening of bones) in adults.

Bones can become thin, brittle, or misshapen (osteoporosis) Vitamin D.
5) Human Immunodeficiency Virus (HIV): The human immunodeficiency viruses (HIV) are two species of Lentivirus (a subgroup of retrovirus) that infect humans.
It is an infection that attacks the immune system by destroying the body's immune cells called CD4, which help it respond to infection.

Once HIV attacks the CD4 cells, it starts replicating and destroying the cells, weakening the body's immune system and making it more prone to certain "opportunistic infections" that take advantage of the weak immune system.

anti-retroviral treatment (ART) therapy consisting of tenofovir, emtricitabine and raltegravir can be used.