1) INS SINDHUDHVAJ: The Navy's Kilo-class submarine, INS Sindhudhvaj, was decommissioned from service on Saturday at Visakhapatnam after 35 years in service. With this, the Navy now has 15 conventional submarines in service.
It successfully undertook mating and personnel transfer with Deep Submergence Rescue Vessel and was the only submarine to be awarded Chief of Naval Staff (CNS) rolling trophy for Innovation
Commissioned into the Navy in June 1987, Sindhudhvaj, was one of the 10 Kilo-class submarines India acquired from Russia between 1986 and 2000.
2) 'Bonalu': is a Hindu Festival where Goddess Mahakali is worshiped.
It is the state festival of Telangana. It is celebrated in parts of Telangana and Andhra Pradesh.
The Word Bonalu came from "Bhojanalu" meaning food, which is offered to the goddess during festival time.
3) Monkeypox: It is a viral zoonotic disease (transmission from animals to humans) and is identified as a pox-like disease among monkeys hence it is named Monkeypox. It is endemic to Nigeria.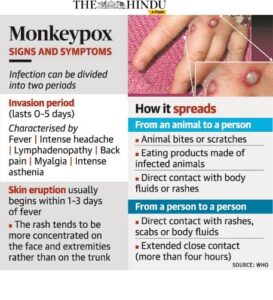 It is caused by monkeypox virus, a member of the Orthopoxvirus genus in the family Poxviridae.
The natural host of the virus remains undefined. But the disease has been reported in many animals.
There is no specific treatment or vaccine available for Monkeypox infection.
4) Grey Water: Grey water is the category of waste water that is not contaminated with faecal matter or urine.
This broad category includes post-use water from most domestic or household purposes like bathing, washing dishes, laundry, etc.
Grey water can contain harmful bacteria and even faecal matter that contaminates soil and groundwater.
5) National Institutional Ranking Framework 2022: launched by Ministry of Education
The NIRF was approved by the Ministry of Human Resource Development (MHRD) and launched in 2015.
It ranks colleges, universities and research institutions and also provides an overall ranking of all of them combined.
Institutes are also ranked across 7 subject domains, namely engineering, management, pharmacy, law, medical, architecture and dental.
Indian Institute of Technology, Madras (IIT-M) is the top higher educational institute in the country followed by the Indian Institute of Science (IISc), Bengaluru, and IIT Bombay.