1) India Innovation Index 2022: Karnataka has topped Niti Aayog's India Innovation Index 2022 among major states, while Chandigarh has topped among city-states and union territories Manipur has topped among northeast and hill states.
Prepared by NITI Aayog and the Institute for Competitiveness, the India Innovation Index is a comprehensive tool for the evaluation and development of the country's innovation ecosystem.
The index is based on seven pillars: human capital, investment, knowledge workers, business environment, safety and legal environment, knowledge output, and knowledge diffusion
2) Kali Bein: The 165-km rivulet starts from Hoshiarpur, runs across four districts and meets the confluence of the rivers Beas and Sutlej in Kapurthala
Waste water from villages as well as industrial waste used to flow into the rivulet via a drain, turning its waters black, hence the name Kali Bein (black rivulet)
The Kali Bein is of great significance to Sikh religion and history, because the first Guru, Nanak Dev, is said to have got enlightenment here.
3) Nord Stream Pipeline: Nord Stream consists of two pipelines, which have two lines each.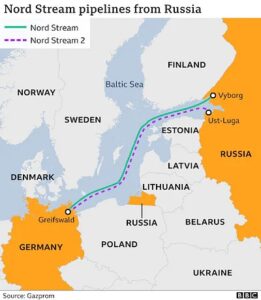 The 1,224 km, $11-billion underwater link is the shortest, most economical and environment-friendly route to double Russia's gas export to Germany.
The twin pipelines together can transport a combined total of 110 billion cubic metres (bcm) of gas a year to Europe for at least 50 years.
4) Tetrapods: Tetrapods are four-legged concrete structures that are placed along coastlines to prevent coastline erosion and water damage.
Also known as wave breakers, Tetrapods were first used in France in the late 1940s to protect the shore from the sea.
They are typically placed together to form an interlocking but porous barrier that dissipates the power of waves and currents.
5) Terzan 2: NASA has released an image of the globular cluster Terzan 2 in the constellation Scorpio captured by the Hubble Space Telescope.
Globular clusters are the stable, tightly bound clusters of tens of thousands to millions of stars.
They are found across a variety of galaxies.
They get their regular, spherical shape from the intense gravitational attraction between the closely packed stars.