1) Heterologous vaccine: In homologous boosting, a person is injected with the same vaccine that was used for the two previous doses. In heterologous boosting, a person is injected with a different vaccine from that was used for the primary dose.
There is a growing body of scientific evidence to prove that when heterologous doses are used as booster shots, the immune response is more efficient.
Covid-19 vaccine Corbevax has become the first to be approved by the country's drug regulator as a heterologous booster in adults.
2) Twin deficit: Current Account Deficit and Fiscal Deficit (also known as "budget deficit" is a situation when a nation's expenditure exceeds its revenues) are together known as twin deficits and both often reinforce each other, i.e., a high fiscal deficit leads to higher CAD and vice versa.
There is a deficit in Current Account if the value of the goods and services imported exceeds the value of those exported.
The fiscal deficit is the difference between the government's total expenditure and its total receipts (excluding borrowing)
3) Rohith Chakrathirtha committee: review Karnataka textbooks from class 1 to class 10.
The demand for review emerged as certain parts of these textbooks hurt the Brahmin sentiments by projecting Vedic period as negative.
4)  Lingayats: Lingayats are followers of Basavanna, the 12th-century social reformer who rebelled against Hindu society and established a new dharma.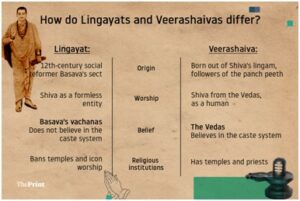 Veerashaivas in Karnataka, influenced by the preachings of Basavanna adapted the same into their lives and faith.
they are strict monotheists. They enjoin the worship of only one God, namely called Linga(Shiva).
However, it should be noted that the words 'Linga' here does not mean the Linga which is established in temples, but the universal consciousness qualified by the universal energy (Shakti).
Lingayat community members argue that it is different from that of Hinduism as it is Gender-neutral, caste-neutral treatment of equality.
5) Virasaivism:  means the Saivism of the stalwarts or heroic Saivism.
the Linga they wear on their person distinguishes the Virasaivas from the Suddhasaivas. Hence the name 'Lingayats' is also applied to them and the cult itself is called Lingayata.
They precede Basavanna, the founder of Lingayatism.
They are found largely in Karnataka, Andhra Pradesh and Kerala.
All sects of the Veerashaiva follow the 'Pancha Peeta', five mutts.
While Lingayats argue that their religious practices are not similar to Veerashaivas or Hindus, the Veerashaiva community has called Lingayatism a part of Hindutva.