1) Hermit: it is a spyware (on the lines of Pegasus) developed by an Italian vendor called RCS Lab
The spyware can steal stored account emails, contacts, browser bookmarks/searches, calendar events, etc. The spyware can also upload files from the device, read notifications, and take pictures of the screen.
Because it can gain access to the root or the 'privilege' access of an Android system, it can uninstall apps and reinstall compromised versions.
2) Partners in the Blue Pacific: The PBP is a five-nation "informal mechanism" to support Pacific islands and to boost diplomatic, economic ties in the region.
Led by the US and its allies — Australia, New Zealand, Japan and the United Kingdom.
Through the PBP, these counties — together and individually — will direct more resources here to counter China's aggressive outreach.
The geostrategic competition in the region has intensified of late after China made the projected scope of its growing footprint clear by pushing for a sweeping, common cooperation agreement with 10 Pacific nations.
3) Horn of Africa: it is the easternmost extension of African land and includes the region that is home to the countries of Djibouti, Eritrea, Ethiopia, and Somalia, whose cultures have been linked throughout their long history.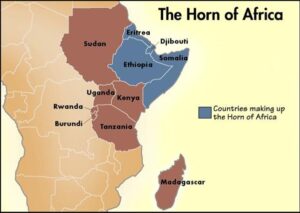 It is also known as the Somali Peninsula, is a large peninsula of East Africa.
The Horn of Africa is equidistant from the equator and the Tropic of Cancer.
4) P C Mahalnobis: He is considered the father of modern statistics in India, founded the Indian Statistical Institute (ISI), shaped the Planning Commission.
He also devised a statistical method called 'Fractile Graphical Analysis', used to compare socio-economic conditions of varied groups.
Proposed the Mahalanobis Distance for the first time, which is a measure of comparison between two data sets.
He was instrumental in formulating India's second five-year-plan (1956-1961), which laid the blueprint for industrialisation and development in India.
5) Partnership for Global Infrastructure and Investment (PGII): launched by G7 countries, it is an initiative to fund infrastructure projects in developing countries and counter China's Belt and Road Initiative.
It was first announced in June 2021 during last year's G7 Summit in the UK with the name Build Back Better World (B3W) framework. However, it did not register much progress
The stated purpose of both the PGII and the BRI is to help secure funding for countries to build critical infrastructure such as roads, ports, bridges, communication setups, etc. to enhance global trade and cooperation. However, the G7 say their initiative is meant to be transparent, focused on building climate change-resilient infrastructure, and help in achieving objectives of gender equality and health infrastructure development.