1) Rare earth elements: Hyderabad-based National Geophysical Research Institute has found large deposits of 15 rare earth elements (REE) in Andhra Pradesh's Anantapur district.
During the survey, they identified major REEs such as allanite, ceriate, thorite, columbite, tantalite, apatite, zircon, monazite, pyrochlore euxenite and fluorite.
Rare Earth Metals are a set of 17 metallic elements, including the 15 lanthanides and scandium and yttrium. They are called "rare earth" because they occur in low concentrations of minerals and were difficult to extract from their oxide forms.
they have unique magnetic, luminescent, and electrochemical properties and are used in many modern technologies. India has 6% of the world's rare earth reserves, but it only produces 1% of global output while China produces 60% of the world's rare earth
Mining and processing of rare earth in India are concentrated in the hands of IREL (India) Limited, a PSU under the Department of Atomic Energy.
2) W12+ Blueprint: It is a UNESCO platform that hosts city profiles and case studies of programs, technologies, and policies that address common water security challenges.
It is an informational database for solutions to urban water challenges.
It will house information on best practices, encourage further knowledge exchange, and become a "virtual Hub" for urban water security solutions globally.
Cities listed under this blueprint from India are Chennai, Bengaluru, Mumbai and Pune.
3) Procedure for NATO membership: Finland has officially joined NATO as 31st member.
Once agreed upon among North Atlantic Treaty Organization (NATO) members, the applicant country joins the Membership Action Plan. This is the very first step to subscribe.
NATO then introduces an amendment to make the said country a party to the Washington Treaty (also known as the NATO Treaty). Thereafter, the new member joins the NATO treaty.
The criteria required for NATO membership include democratic political system, market economy, fair treatment of minority populations, etc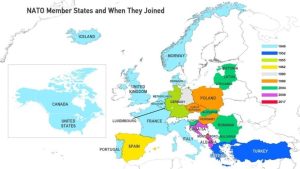 4) Hikikomori: It is a phenomenon of social withdrawal, is spreading rapidly in Japan.
It is a term used to describe people who have withdrawn from society, often for a period of six months or longer. It is associated with feelings of anxiety, depression, and social phobia.
5) Lublin Triangle: It is a regional alliance of three European countries – Lithuania, Poland, and Ukraine – for the purposes of strengthening mutual military, cultural, economic and political cooperation and supporting Ukraine's integration into the European Union and NATO. The Lublin Triangle initiative invokes the integrative heritage of the 1569 Union of Lublin. The Lublin Triangle countries declare their support for restoring Ukraine's territorial integrity within internationally recognized borders and call for an end to Russian aggression.