Difference between ballistic and cruise missile: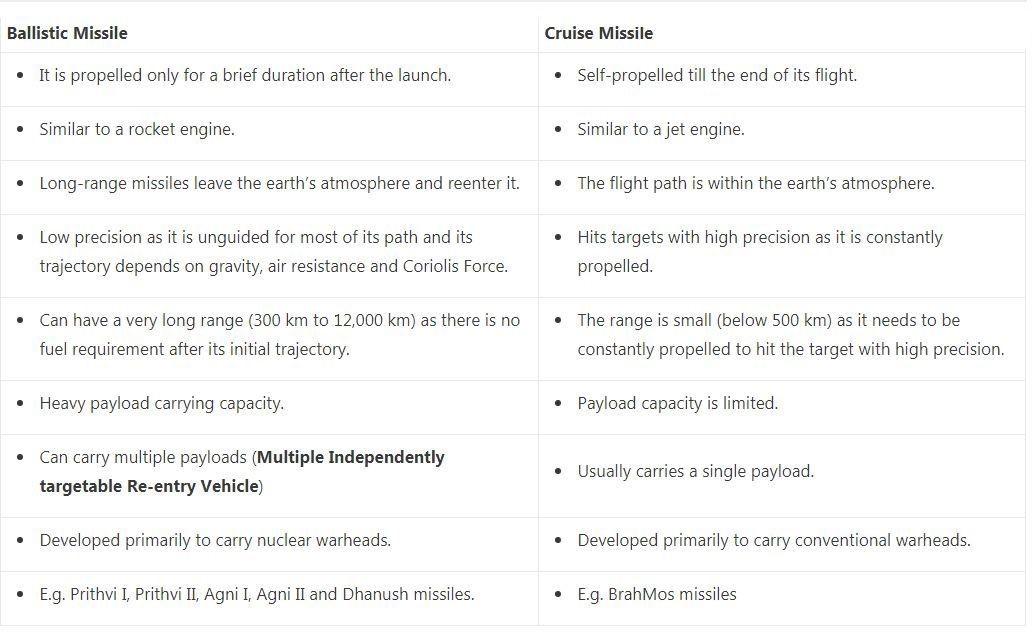 Look out notice: Lookout Notices are also known as Lookout Circulars (LOC), which are opened to trace absconding criminals. Also, to effectively prevent and monitor the entry and exit of individuals who may be required by law enforcement authorities. The basic guidelines (regarding the publication of the LOCs in relation to Indian citizens) are issued by the Ministry of Home Affairs (MHA). An LOC is issued to make sure that an individual who is absconding or wanted by law enforcement agencies is not able to leave the country. It is mostly used at immigration checkpoints at international airports and seaports by the immigration branch.
Biosimilar Medicine: A biosimilar is exactly what its name implies — it is a biologic that is "similar" to another biologic medicine (known as a reference product). Biologics or biological products are medicines made from living organisms through highly complex manufacturing processes and must be handled and administered under carefully monitored conditions. Biologics are used to prevent, treat or cure a variety of diseases including cancer, chronic kidney disease etc. Biosimilars are highly similar to the reference product in terms of safety, purity and potency, but may have minor differences in clinically inactive components. India is one of the leading manufacturers of biosimilars. India developed a new guideline in 2012 for the pre- and post-marketing approval of similar biologics. The guidelines also address the regulation of manufacturing process as well as quality, safety, and efficacy of similar biologics.
Rules of Origin: 'Rules of Origin' are principles, on the basis of which the source country of a product is established. Based on which tariff concessions or applicable duties are determined. Their importance is derived from the fact that duties and restrictions in several cases depend upon the source of imports.
Phytosanitary Measures: Phytosanitary measures (SPS) under WTO, provides guidelines for member countries to adopt measures related to food safety and animal and plant health from various biosafety risks arising from trade. These risks are usually related to pests and diseases and may come from risks arising from additives, toxins and contaminants in food and feed.