The Central Government has sought Parliament's approval for fresh expenditure of Rs 2.14 lakh crore towards major subsidies, over and above the Rs 3.17 lakh crore budgeted for 2022-23. This 5.32 lakh crore spending on subsidy in 2022-23 would be the second highest after the Rs 7 lakh crore of 2020-21. However, there's a difference between 2020-21 and 2022-23.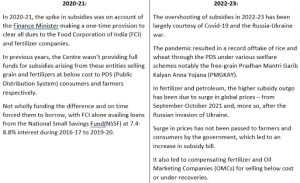 What are the future prospects of subsidies?
Some relief can be expected on all the "3F" subsidies – food, fuel and fertilizer.
In food, the government is unlikely to extend PMGKAY beyond December 2022. This will help reduce the Centre's food subsidy bill.
In fuel, international prices of petrol and diesel have eased. There is also a reduction in the prices of imported fertilizers.
Due to these positive future prospects, there could be subsidy savings of around Rs 150,000 crore assuming no new geopolitical, climate or pandemic shocks.