Missing monuments:
Guns of Emperor Sher Shah: tinsukia (Assam)
the Ruins of Copper Temple, Paya, Lohit (Arunachal Pradesh)
Kos Minar, Mujesar, Faridabad (Haryana)
Kutumbari Temple, Dwarahat, Almora (Uttarakhand)
Rock Inscription, Satna (Madhya Pradesh)
Old European Tomb, Pune (Maharashtra
12th Century Temple, Baran (Rajasthan) and
Telia Nala Buddhist ruins, Varanasi (Uttar Pradesh).
2. Sutlej Yamuna Link Canal (SYL) Dispute: SYL is an under-construction canal to connect the Sutlej and Yamuna rivers.
It is supposed to carry water from Punjab to Haryana through sharing of Ravi-Beas water.
The river Beas joins river Sutlej in Punjab.
The dispute regarding sharing of river water emerged after Punjab was reorganised in 1966, and the state of Haryana was created (out of Punjab).
After this, Punjab refused to share waters of Ravi and Beas with Haryana.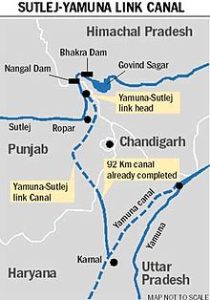 3. Sunni Dam Hydro Electric Project: It is a Run of River project. It was being executed on the Sutlej in Shimla
4. Silent Valley National Park: Silent Valley National Park is located in the Southwestern corner of Nilgiris, kerela
A perennial river named Kunthipuzha is passing through the western side of the park, from north to south direction finally merging into Bharathapuzha.
Fauna: Silent Valley Park is known for many highly endangered species such as lion-tailed macaque, tiger, gaur, leopard, wild boar, panther, Indian Civet and Sambhar.
The indigenous tribal groups that live within park boundaries include Irulas, Kurumbas, Mudugas and Kattunaikkars.
5. Deepor Beel: It is a permanent freshwater lake and also a bird sanctuary in Assam.
It is a riverine wetland, lying in a former channel of the Brahmaputra River, it lies to the south of the main river channel.
It was designated as a Ramsar site in 2002 and it is the only Ramsar site in Assam.
This lake is a staging site on migratory flyways and some of the largest concentrations of aquatic birds in Assam can be seen, especially in winter.
Some globally threatened birds are supported, including Spot-billed Pelican, Lesser Greater Adjutant Stork and Baer's Pochard.
6. Nilgiri Biosphere Reserve (NBR):
Name Origin: From the blue flower-clad mountains of the Nilgiris plateau (TN)
It was the first biosphere reserve in India established in the year 1986.
It is located in the Western Ghatsand encompasses parts of Tamil Nadu, Kerala and Karnataka.
The confluence of Biotic zones:It is at the confluence of Afro-tropical and Indo-Malayan biotic zones of the world.
It is a Biodiversity Hotspot
Tribal: Todas, Kotas, Irullas, Kurumbas, Paniyas, Adiyans, Edanadan Chettis, Cholanaickens, Allar, Malayan, etc., are native to the reserve.
Protected Areas in NBR: Mudumalai Wildlife Sanctuary, Wayanad Wildlife Sanctuary, Bandipur National Park, Nagarhole National Park, Mukurthi National Park and Silent Valley are the protected areas present within this reserve.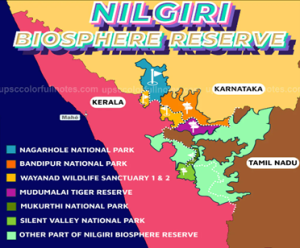 7. Kangla Nongpok Thong: in Manipur.
The Nongpok Thong was dismantled by the British after the 1891 Anglo-Manipur War.
The opening of Kangla Nongpok Thong has a very important cultural significance.
The Eastern Gate of Kangla is considered to be the pathway to peace, prosperity and happiness for the people of Manipur.
8. Coringa Wildlife Sanctuary: It is a wildlife sanctuary and estuary situated in Andhra Pradesh.
Between this sanctuary area and the sea Hope Island blocks the direct confluence of the sea and Godavari. As a result, about 40% of the sanctuary is only sea backwaters and the rest of the area is intermingled with creeks and gets inundated with tidal waters.
Flora: It has extensive mangrove and dry deciduous tropical forests. It is the second-largest stretch of mangrove forests in India.
Fauna: It is home to the critically endangered white-backed vulture and the long-billed vulture.
9. Chanaka-Korata Barrage: It is a Telangana-Maharashtra joint project on the Penganga river to irrigate 6,677 hectares of land.
Penganga River: It originates in the Ajantha ranges in Aurangabad district in Maharashtra.
It is a major tributary of the Wardha River (part of Godavari river basin).
The river flows along the State border between Maharashtra & Telangana before converging into Wardha river.
Tributaries: The main tributaries of the river are Adan, Kas, Arunavati Kayadhu & Pus.
The famous Sahastrakund falls on this river.
10. Tapovan Vishnugad hydropower project: It is a 520MW run-of-river project being constructed on Dhauliganga River in Chamoli District of Uttarakhand, India.
NTPC is developing the project
11. Katarniaghat Wildlife Sanctuary (KWS): It is situated in the Upper Gangetic plain falling in the Terai of Bahraich district of Uttar Pradesh.
It is part of Dudhwa Tiger Reserve Lakhimpur kheri.
The Katarniya Ghat Forest provides strategic connectivity between tiger habitats of India and Nepal.
Flora: The sanctuary has a mosaic of Sal and Teak forests, lush grasslands, numerous swamps and wetlands.
12. Yucatan Peninsula: It is Mexico's southeastern projection, extending into the Atlantic Ocean.
It separates the Gulf of Mexico to the north and west and the Caribbean Sea to the east.
Mesoamerica: It refers to a geographical and cultural area which extends from central Mexico down through Central America, including the territory which is now made up of the countries of Guatemala, Belize, Honduras, and El Salvador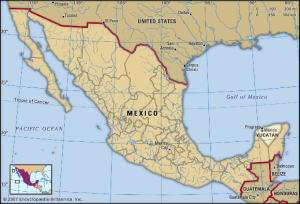 13. Medog Project:
It is a proposed Chinese project to build the world's biggest hydroelectric dam over the Yarlung Tsangpo (name of Brahmaputra in Tibet) river in Tibet close to the Arunachal Pradesh border.
The proposed dam will be built in Medog County, where the Yarlung Tsangpo/Brahmaputra Grand Canyon (world's deepest and longest canyon) is located.
14. Three Gorges Dam: It is a hydroelectric gravity dam that spans the Yangtze River located in Hubei province, China. The Three Gorges Dam is the world's largest power station in terms of installed capacity (22,500 MW).
15. Seshachalam Hills: The Seshachalam Hills are a part of the Eastern Ghats in Andhra Pradesh.
They are a group of seven hills namely, Seshadri, Neeladri, Garudadri, Anjanadri, Vrishabhadri, Narayanadri and Venkatadri.
The Seshachalam hills consist of sandstone and shale along with limestone.
Tirupati which is considered as one of the major Hindu pilgrimage towns in India is located in the hills.
The Srivenkateshwara National Park is also located in this mountain range.
Seshachalam was designated as a Biosphere Reserve in the year 2010
It has large reserves of red sandalwood.
16. Etalin Hydroelectric Project (EHEP):
It is a 3,097 MW hydropower project planned in the Dibang Valley of Arunachal Pradesh.
It is one of the largest hydropower projects proposed in the country in terms of installed capacity.
EHEP is proposed to be developed as a combination of two run-of-the-river schemes.
The project involves the construction of concrete gravity dams on the Tangon and Dri riverswhich are tributaries of Dibang river.
The project area is dominated by indigenous population belonging to Idu-Mishmi tribes.