About Pradeep Singh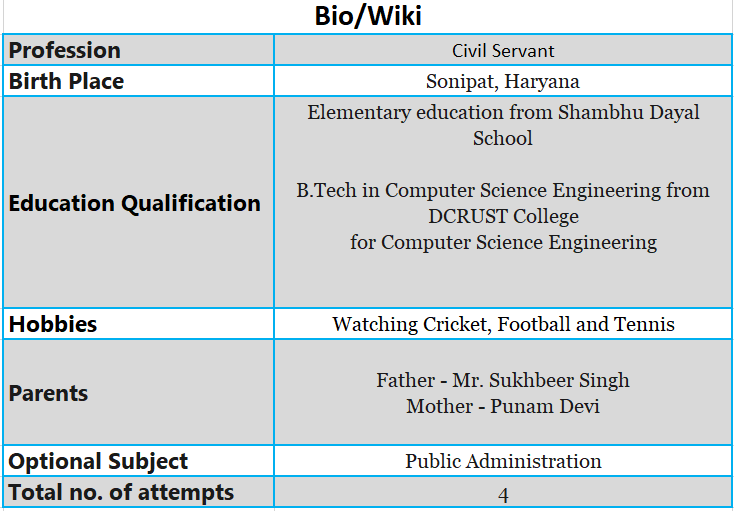 Pradeep Singh, a native of Sonipat district from Haryana, secured rank 1 in 2019 in his fourth attempt. Pradeep, who is 29 years old, was an Indian Revenue Services Officer when the 2019 UPSC test results were made public and he noticed his name at the top of the list. He was into IRS(Customs & Indirect Taxes) after clearing UPSC in his 3rd attempt securing the 260th position (At the National Academy of Customs, Indirect Taxes, and Narcotics (NACIN) in Faridabad, he was on probation). After passing the SSC exams, he had previously worked for the Income Tax Department.
Pradeep Singh received all of his formal education in Sonipat, where he attended the Shambhu Dayal School for elementary education and the DCRUST College for computer science engineering. Mr. Singh's main source of inspiration on his path to the IAS was his father, who served as the village's sarpanch.
Balancing the IAS preparation with his job as an income tax inspector was challenging for Pradeep. However, whenever he lost motivation and considered giving up, his father gave him the advice to keep going after his goals and concentrate on the preparation. Mr. Singh expressed his aspirations for the future, saying he wanted to "work for the needy" and aid in the "development of the country".
His strategy for success
Smart elimination: Smart elimination is a way to clear the examination. First, set a target of how many questions you will attend. Be sure that you attend to those questions only where you are more than 50% sure.
Setting daily target: Pradeep Singh concentrated on fulfilling daily assignments from the UPSC syllabus during his preparation.
Phases of the preliminary, mains, and interview are very different from one another, therefore one should prepare accordingly.

Focusing on writing abilities

will help you pass the main exam, while having good people skills will help you get through the interview stage.