About Subham Kumar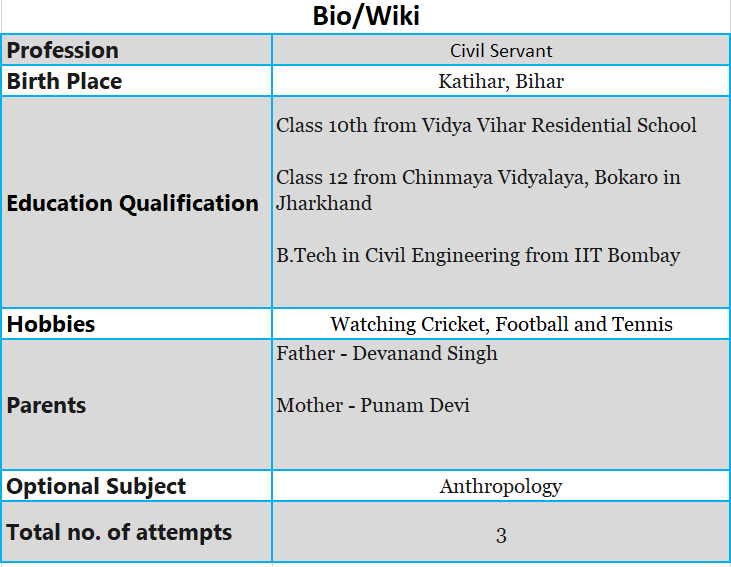 Shubham Kumar, a boy from the Katihar district of Bihar, secured All India Rank 1 in UPSC Civil Service Examination. From childhood he was good at academics. He completed his class 10th from Vidya Vihar Residential School and his class 12 from Chinmaya Vidyalaya, Bokaro in Jharkhand. Then he got into IIT Bombay and completed his B.Tech in Civil Engineering.
Shubham secured 1st rank in UPSC CSE in his third attempt. He appeared for the first time in 2018 for Civil Services Examination. However, he could not clear it in his first attempt. He reappeared in 2019 and secured 290th position, and got into Indian Defense Accounts Service (IDAS). He gave his third attempt in 2020 while he was under training at  National Academy of Defense Financial Management Institute, Pune and he bagged Rank 1 this year.
His message to aspirants:
Shubham started his preparation with NCERTs. He developed a crucial strategy for the core subjects. Developing core subjects is a key UPSC preparation method. The same is true for your UPSC preparation: you cannot build a tall edifice on a poor foundation. You must improve in your foundational disciplines, such as geography, political science, and history. NCERTs are a good resource for this.
Limited Resources: Keeping your resources limited for this examination is an important factor for success. It is frequently advised to candidates to create their own reading list using all recommended books. However, many people believe that reading multiple books at once can produce better outcomes, but the reality is very different. Candidates who use many resources are unable to concentrate on thorough revision. Instead, someone with minimal resources can still plan properly and make revisions. They can repeatedly revise a book to gain skill in it.
Prepare a small term and long term strategy: Prepare a short term as well as long strategy. Create an achievable goal where set a weekly target which you will achieve by daily targets.

Get yourself assessed every week:

Appear for tests on a fixed day of every week. An essential component of your UPSC preparation is taking mock exams. You can assess your strengths and deficiencies with its assistance.
Go through past year's question papers: You can better adjust to the prelims or mains exam structure by completing a number of prior year's question papers. You won't be taken by surprise by the question type on test day; instead, by resolving them, you can determine the best approach.
Practising answer writing: Mains cannot be passed only on knowledge. You must understand how to communicate your solutions. Keep in mind that the examiner does not assess you based on the knowledge you possess, but rather the answers you write. So, practise coming up with several responses. At least one solution must be solved each day. You can have a qualified person evaluate them.