Recently, the Centre has defined a list of single-use plastic items that will be banned from 1st July 2022.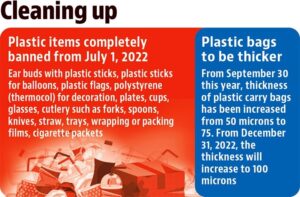 As the name suggests, it refers to plastic items that are used once and discarded.
The manufacture, import, stocking, distribution, sale and use of notified single-use plastic, including polystyrene and expanded polystyrene, commodities shall be prohibited with effect from the 1st July, 2022.
Why are Single-Use Plastics disastrous?
By 2050, it has been predicted that single-use plastic might contribute 5–10% of greenhouse gas emissions, depending on the production trajectory currently in place.
India ranks 94th out of the top 100 nations for producing the most single-use plastic garbage
India produces 4 kg of single-use plastic garbage per person yearly.
The decision to ban the initial batch of single-use plastic items was made due to their "difficulty of collection, and consequently recycling."
These items are difficult to collect, especially since most are either small or discarded directly into the environment – like ice cream sticks.
Microplastics, which are particularly dangerous, are created when plastic is left in the environment for a very long time and does not decompose. These microplastics then find their way into our food supplies and eventually into our bodies.
The items chosen are of low value and of low turnover and are unlikely to have a big economic impact, which could be a contributing reason.
How will the ban be enforced?
The ban will be monitored by the CPCB from the Centre, and by the State Pollution Control Boards (SPCBs) that will report to the Centre regularly.
Directions have been issued at national, state and local levels — for example, to all petrochemical industries — to not supply raw materials to industries engaged in the banned items.
Those found violating the ban can be penalised under the Environment Protection Act 1986 – which allows for imprisonment up to 5 years, or a penalty up to Rs 1 lakh, or both.
Violators can also be asked to pay Environmental Damage Compensation by the SPCB.
How do other nations handle single-use plastic?
In 2002, Bangladesh became the first nation to outlaw thin plastic bags. In July 2019, New Zealand became the most recent nation to outlaw plastic bags.
The Single-Use Plastics Directive entered into force in the European Union on July 2, 2021. (EU).
Single-use plastic plates, cutlery, straws, balloon sticks, and cotton buds cannot be sold in EU member states due to the directive's ban on certain single-use plastics for which substitutes are available.
READ MORE: Daily Prelims Booster
READ MORE: Daily News Analysis