Minorities: The Constitution recognizes Religious minorities in India and Linguistic minorities in India through Article 29 and Article 30.
But Minority is not defined in the Constitution.
Currently, the Linguistic minorities in India are identified on a state-wise basis thus determined by the state government whereas Religious minorities in India are determined by the Central Government.
The Parliament has the legislative powers and the Centre has the executive competence to notify a community as a minority under Section 2(c) of the National Commission for Minorities Act of 1992.
Integrated Battle Groups: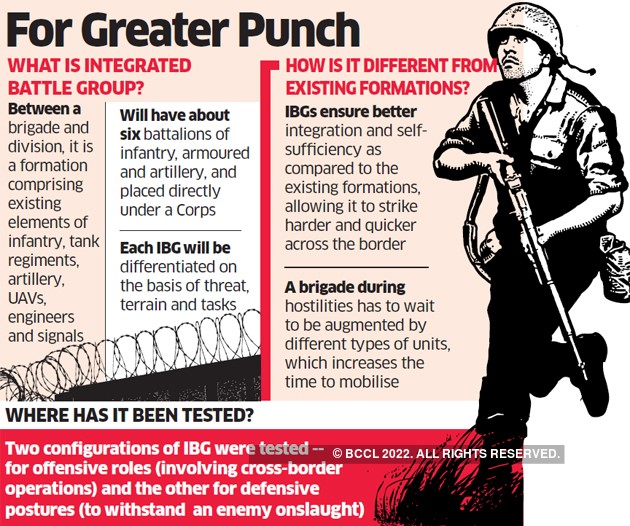 Living/non-living monument:
If some activity, like any kind of worship, has been going on for years in the structure, then it is taken over as a living monument.
But where no activity has taken place, say an abandoned building, then it is declared a dead monument.
The latter is difficult to restore because it is generally covered by a lot of overgrowths.
Martand Sun Temple: It is a Hindu temple located near the city of Anantnag in the Kashmir Valley.
It dates back to the eighth century AD and was dedicated to Surya, the chief solar deity.
The temple was destroyed by Sikandar Shah Miri in a bid to undertake mass conversion and execution of Hindus in the valley.
According to Kalhana, the Temple was commissioned by Lalitaditya Muktapida in the eighth century AD.
The temple is built on top of a plateau from where one can view whole of the Kashmir Valley.
From the ruins the visible architecture seems to be blended with the Gandharan, Gupta and Chinese forms of architecture.
Ethanol: Recently, the level of ethanol blending in petrol in India has reached 9.99 per cent.
It is an organic chemical compound, a simple alcohol with the chemical formula C2H6O.
It is a volatile, flammable, colourless liquid with a characteristic wine-like odour and pungent taste.
Ethanol can be produced from crops that have high starch content like sugarcane, maize, wheat, etc. In India, ethanol is mainly produced from sugarcane molasses by the fermentation process.
Ethanol can be mixed with gasoline to form different blends.
As the ethanol molecule contains oxygen, it allows the engine to better combust the fuel and results in fewer emissions
Since ethanol is produced from plants that harness the power of the sun, ethanol is also considered a renewable fuel.