Green manure: Green manures are crops grown specifically for maintaining soil fertility and structure.
It is done by leaving uprooted or sown crops parts, allowing them to wither onto the field and serve as mulch and soil fertilizers.
They are normally incorporated back into the soil, either directly, or after removal and composting.
There are three main varieties of green manure, including: Dhaincha, Cowpea, Sunhemp
Split verdict : In case of a split verdict, the case is heard by a larger Bench. This is why judges usually sit in Benches of odd numbers (three, five, seven, etc.) for important cases, even though two-judge Benches or Division Benches are not uncommon.
The larger Bench to which a split verdict goes can be a three-judge Bench of the High Court, or an appeal can be preferred before the Supreme Court.
Foreign Contribution (Regulation) Act (FCRA): The law seeks to regulate foreign donations to individuals and associations so that they functioned in a manner consistent with the values of a sovereign democratic republic.
The Act prohibits the receipt of foreign funds by candidates for elections, journalists or newspaper and media broadcast companies, judges and government servants, members of legislature and political parties or their office-bearers, and organisations of a political nature.
It is regulated by Ministry of Home Affairs.
Marsquake: Recently, NASA's InSight lander detected a quake on Mars, the largest ever observed on another planet.
On Earth, quakes are caused by shifts in tectonic plates. Mars, however, does not have tectonic plates, and its crust is a giant plate.
Therefore, NASA notes, 'marsquakes' are caused due to stresses that cause rock fractures or faults in its crust.
NASA's InSight: it is a Mars lander designed to give the Red Planet its first thorough checkup since it formed 4.5 billion years ago.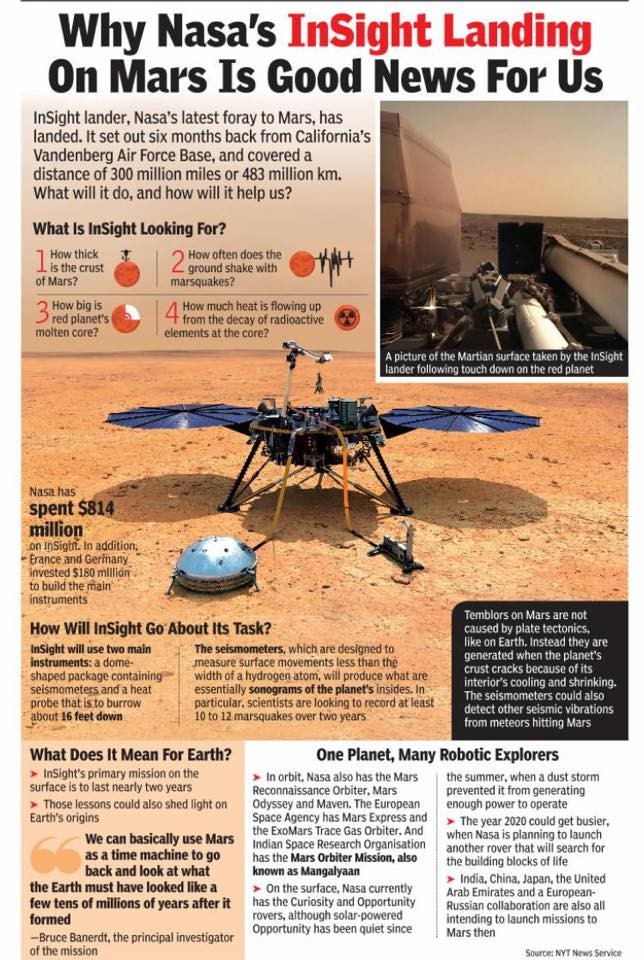 It is the first outer space robotic explorer to study in-depth the "inner space" of Mars: its crust, mantle, and core.