Sagittarius 'A' star: it refers to the believed location of the supermassive black hole in the centre of our galaxy.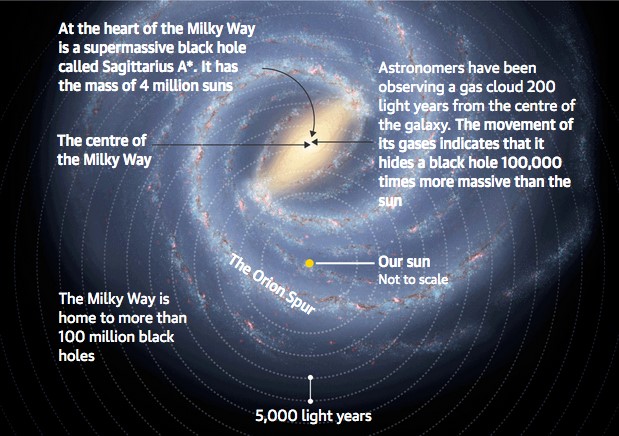 Event Horizon:
Black holes are extraordinarily dense objects with gravity so strong that not even light can escape, making viewing them extremely challenging.
A black hole's event horizon is the point of no return beyond which anything—stars, planets, gas, dust and all forms of electromagnetic radiation—gets dragged into oblivion.
The closer someone came to a black hole, the greater the speed they would need to escape that massive gravity.
The event horizon is the threshold around the black hole where the escape velocity surpasses the speed of light.
ASEAN: US President Joe Biden will host leaders and top officials of the Association of Southeast Asian Nations (ASEAN) in Washington DC.
ASEAN is a political and economic union of 10 member states in Southeast Asia.
It brings together ten Southeast Asian states – Brunei, Cambodia, Indonesia, Laos, Malaysia, Myanmar, the Philippines, Singapore, Thailand and Vietnam – into one organisation.
It was established on 8th August 1967 in Bangkok, Thailand with the signing of the Bangkok Declaration
India Hypertension Control Initiative (IHCI): Recognizing that hypertension is a serious, and growing, health issue in India, the Health Ministry, the ICMR, State Governments, and WHO-India began a five-year initiative to monitor and treat hypertension.
The programme was launched in November 2017.
India has committed to a "25 by 25" goal, which aims to reduce premature mortality due to non-communicable diseases (NCDs) by 25% by 2025.
To achieve India's target of a 25%, approximately 4.5 crore additional people with hypertension need to get their BP under control by 2025.
Hypertension: Hypertension is defined as having systolic blood pressure level greater than or equal to 140 mmHg or diastolic blood pressure level greater than or equal to 90 mmHg.
The definition also assumes taking anti-hypertensive medication to lower his/her blood pressure.
There were an estimated 20 crore adults with hypertension in the country.