1) Broken rice: China is now the top buyer of Indian broken rice, which was earlier exported mostly to African countries.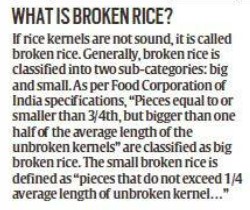 Trade experts say the reason for this increase in export of broken rice to China is the higher demand of rice for making noodles and wine in that country.
2) LaMDA (Language Model for Dialogue Applications):
It is a machine-learning language model created by Google as a chatbot that is supposed to mimic humans in conversation.
It is built on Transformer, a neural network architecture i.e. a series of algorithms that endeavors to recognize underlying relationships in a set of data through a process that mimics the way the human brain operates
LaMDA is designed to be able to engage in free-flowing conversations about a virtually endless number of topics.
There are claims of it becoming sentient and begun reasoning like a human being.
3) Web 5.0: Web 5.0 is aimed at "building an extra decentralized web that puts you in control of your data and identity".
It envisions an Internet without threat of censorship – from governments or big tech, and without fear of significant outages.
4) Web 1.0, 2.0, 3.0:
Web 1.0 was the first generation of the global digital communications network. It is often referred to as the "read-only" Internet made of static web-pages that only allowed for passive engagement.
The next stage in the evolution of the web was the "read and write" Internet. Users were now able to communicate with servers and other users leading to the creation of the social web. This is the world wide web that we use today.
Web 3.0 is an evolving term that is used to refer to the next generation of Internet – a "read-write-execute" web – with decentralization as its bedrock. Web 3.0 will be driven by Artificial Intelligence and machine learning where machines will be able to interpret information like humans.
5) Difference between Type 1 and Type 2 diabetes: