1) Foreign Trade Policy 2023: Union Minister of Commerce and Industry, Consumer Affairs, Food and Public Distribution and Textiles launched the Foreign Trade Policy (FTP) 2023
Four new towns, namely Faridabad, Mirzapur, Moradabad, and Varanasi, have been designated as Towns of excellence in addition to the existing 39 towns.
Shift from Incentive to Remission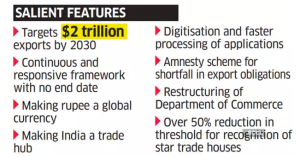 2) Bastille Day Parade:
The Bastille Day military parade, also known as the 14 July military parade, is a French military parade that has been held on the morning of 14 July each year in Paris since 1880.
It is also one of the oldest regular military parades in the world.
July 14 is the anniversary of the storming of the infamous Bastille prison in 1789 – a turning point for the success of the French Revolution.
This day is marked as the National Day of France.
3) Reusable Launch Vehicle-Technology Demonstration (RLV-TD): In a first in the world; a winged body has been carried to an altitude of 4.5 km. Chinook helicopter was used to drop the RLV-TD from a 4.5 km altitude and ISRO executed the landing ISRO conducted the RLV LEX (experiment) at the Aeronautical Test Range of DRDO in Karnataka.
A Winged RLV-TD has been configured to act as a flying test bed to evaluate various technologies like, hypersonic flight, autonomous landing, and powered cruise flight.
RLV-TD is similar to that of an aircraft and combines the complexity of both launch vehicles and aircraft.
It consists of a fuselage (body), a nose cap, double delta wings, and twin vertical tails.
It also features symmetrically placed active control surfaces called Elevons and Rudder.
RLV-TD was successfully flight tested on May 23, 2016, from Sriharikota. This was the second in the series of experimental flights of the programme.
4) Performer's rights: It refers to the legal rights granted to actors, singers, musicians, dancers, and other performers for their creative works.
It is protected under international treaties such as the Rome Convention for the Protection of Performers and the WIPO Performances and Phonograms Treaty (1996). In this treaty, the moral rights of the performers were recognized for the first time in any international treaty.
In India, performer rights were recognised under the Copyright Act of 1957 in the year 1994.
The duration of the protection of the performer's rights is 50 years from the end of the year in which the performance was fixed or it took place.
5) Basholi paintings: Considered the first school of Pahari paintings, it is a reputed school of miniature paintings known for its vivid, evocative colours, bold lines, and deep-set facial patterns from Jammu and Kashmir.
Colours used: Ochre yellow, brown, and green grounds predominating.
Themes: The portraits of local rulers, Radha-Krishna, and Madhava-Malati love themes and themes from the Bhagavata Purana.
These are painted on paper, cloth, or wood using natural pigments and dyes.
It recently got GI tag; the 1st from Jammu.