About Shruti Sharma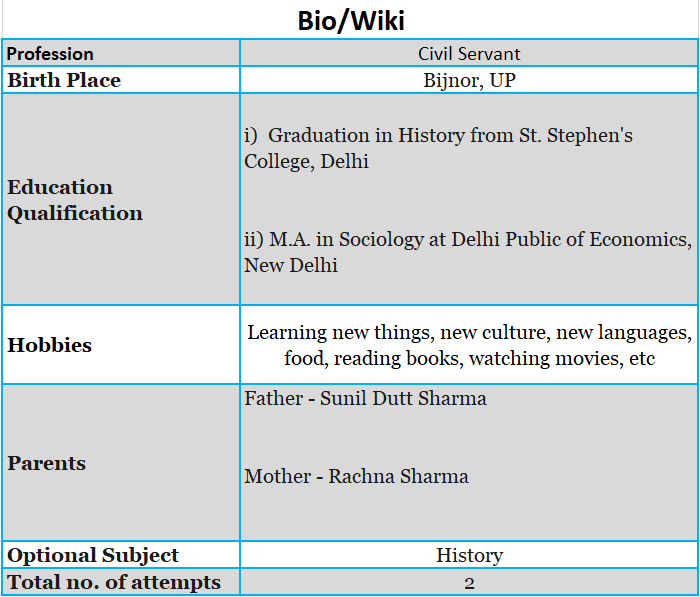 Shruti Sharma, a History graduate of St. Stephen's College, Delhi, cleared UPSC Civil Service Examination in 2021 on 2nd attempt. Her father runs a construction consultancy and her mother is a former teacher. Shruti is the only member of her family who pursued her degree in the arts and studied history. She was born into a family of engineers and doctors. She missed her first mains by 1 mark only. She served as the secretary of cultural affairs while she was a student and a student executive member. Her school days were devoted to planning events.  She actively participated in a variety of debate formats while in college, including turn-quote style discussion, parliamentary debate, and conventional debate.
Shruti had always aspired to join the Indian Administrative Service and serve her country. She failed the Civil Services exam on her first attempt, though. She cleared IAS in her second attempt and that too securing Rank 1. She got 1105 marks overall after receiving 173 marks in the personality test and 932 marks in the mains, respectively. She started her preparation the final year of her graduation.
Her strategy for UPSC CSE
A smart guess for the questions which are having a 50-50 chance does not work always. She left questions that she was 50% sure about it. In the examination hall, she found at least 50 questions unknown. Not losing the calm at that moment is the basic criterion for success. She attempted around 94 questions in the GS paper and 50 questions in CSAT. Smart guess played a major role in her selection through the prelims examination which she found the most challenging part of the journey.
She followed an integrated approach to preparing for UPSC. According to her, the basic subjects you are reading for prelims will be in the mains also. These subjects need to be prepared with a deeper understanding of the main purpose. So, the preparation should not be prelims specific or mains specific, rather it should be integrated for prelims and mains.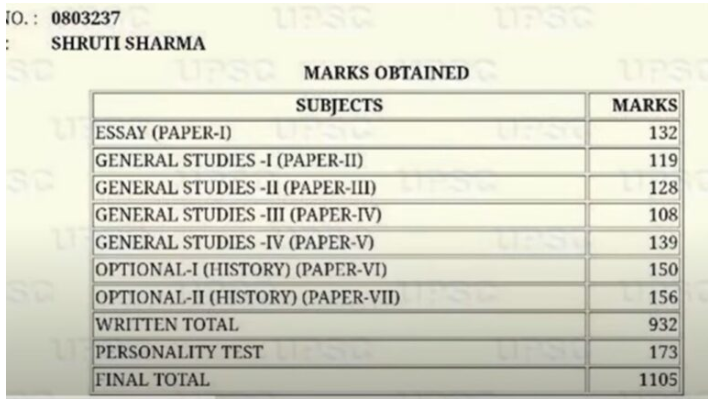 In shorts, her strategy of success is
To avoid confusion, choose a few carefully chosen books and study materials and make every effort to stick to them as you prepare for the exam.
Focusing your preparation will be made easier for you if you are

aware of your own strengths and weaknesses

. This concentration and comprehension will be of great assistance in maximizing each level of preparation in accordance with your requirements.

Always maintain a reasonable and doable study regimen when getting ready for the UPSC CSE. It also helps to create a planner and keep track of the goals.

Finding a CSE preparation rhythm that works for you takes time. Don't worry; if a notion seems difficult and you become stuck, just think it through, and you'll realize how to learn that particular concept clearly.

It might be challenging to study for the UPSC exam, so stay motivated and optimistic. Always see the good in everything, and have faith in your capacity to pass UPSC CSE.